Hi. My name is RaShelle Workman. Welcome to my blog. I'm excited to be participating in the
Fall 2014 Scavenger Hunt.
1. I have three children, three dogs, and one husband, which equals seven, my favorite number.
2. Writing is a passion. In fact I love it so much I have two pen names (they're secret - lol).
3. One of my favorite things to do is turn the volume up and sing 80's songs. Whitesnake rules!
4. I pay my fourteen-year-old to do my hair. She rocks at it.
5. I'm the author of the popular Blood and Snow series.
6. Cooking shows are my secret addiction.
7. In my office I keep at least ten different types of lip gloss and chap stick on hand.
ABOUT THE HUNT
The YA Scavenger Hunt is a
bi-annual event that was first organized by author
Colleen Houck
as a way to give readers a chance to gain access to exclusive bonus material from their favorite authors... and a chance to win some awesome prizes! At this hunt, you not only get access to exclusive content from each author, you also get a clue for the hunt.
Add up the clues, and you can enter for our prize--one lucky winner will receive
one signed book from each author on the hunt in my team
!
But play fast: this contest (and all the exclusive bonus material) will only be online for 72 hours!
Go to the YA Scavenger Hunt page to find out all about the hunt.
There are SIX contests going on simultaneously, and you can enter one or all of them!
I am a part of the
INDIE TEAM
,
but there is also a red team, a gold team, an orange team, a blue team, and a green team. Visit those teams as well for a chance to win a whole lot of signed books.
Directions: Below, you'll notice that I've listed my favorite number. Collect the favorite numbers of all the authors on the INDIE team, and then add them up.
Rules: Open internationally, anyone below the age of 18 should have a parent or guardian's permission to enter. To be eligible for the grand prize, you must submit the completed entry form by DATE, at noon Pacific Time. Entries sent without the correct number or without contact information will not be considered.
Today, I am hosting the lovely STEPHANIE FEUER on my website for the YA Scavenger Hunt!

Here's a little about her:
Stephanie Feuer's articles and essays have appeared in The New York Times, The New York Press, on bettyconfidential.com and in numerous anthologies and literary magazines. She's read at KGB, The Bowery Poetry Club, The Museum of Motherhood, Sarah Lawrence, and other venues. She serves as creative nonfiction editor of Conclave, a Journal of Character. DRAWING AMANDA is her first published book of fiction. Currently a web content manager, she's been a computer researcher, radio disc jockey, alternative energy reporter, editor of a music monthly, magazine publicist, marketing director of two New York radio stations and loyalty program manager for The New York Times. Stephanie earned her Master's in Journalism and Communication from Boston University, and her B.A. in sociology from Hamilton (Kirkland) College. She lives in New York City with her husband, teenage son, Tibetan Terrier and an out of control collection of books and CDs.
Find out more information by checking out the author's

WEBSITE

or find more about the author's book

HERE

!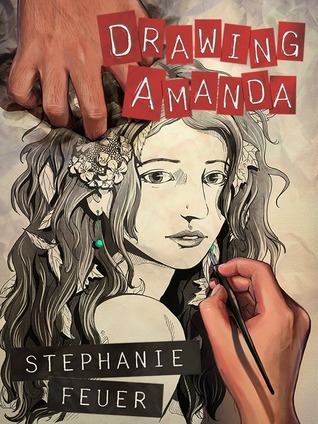 This bonus scene, which at one time was a prologue, is not included in the final version of DRAWING AMANDA. It provides insight into the past misdeeds and motivations of Woody Turner, the developer of the Megaland game.
It was the stench that stayed with him. Woody Turner picked up the green metal can of air freshener, raised his hand and circled it above his head, spreading a mist around the Megaland studios.
The smell of loss. Of ruin. Of six wasted months. He'd managed to stay trim, and the few streaks of gray that peppered his still-thick shag were barely noticeable. He had his looks, but everything else was gone. With his worn leather boot he kicked the computer table hard. The framed picture of Jimi Hendrix on the wall shook.
On one level prison hadn't been much different from the recording studio - the confined space, not knowing if it was day or night, and guys - too close, too constant.
His legend as producer and fifth member of the notorious metal band Xtreeme had been as good as currency inside. The band's road-crazy mystique (was it really a barrel of live rattlesnakes?) worked like a shield against the gangs, hand-crafted shanks and sneers of the guards. All the while his anger burned white hot.
Wasn't marriage supposed to be in good times and in bad? Vanessa was there for the good times and there were plenty; a long and shiny limo ride to galas and the world's major cities, clothes, jewelry, anything she wanted. But when new wave and new tech hit and the studio started to tank, she was history. She belittled the contest he created, with its promise of a full album's worth of recording time, until it attracted some serious, even seasoned talent. But it was a teenager who shone brightest.
The girl had wanted him. True, she was willing to do whatever it took to be a star. Had the goods, too, a great set of pipes, non-stop looks and knew what she wanted - enough to even lie about her age. But she had wanted him, and the thought of her burned in his memory those long months.
What had his Vanessa offered her to turn on him? Or did she do it on her own? What did that matter now?
Pictures on the wall of what had been were no comfort. It was all gone now. Ashes. But he'd rise again.
He sat down at the computer and scanned the string of code. It had come easy to him, building websites, and there'd been plenty of time to learn, even if there wasn't a computer to test it on.
"There's nothing you can't build now," his mentor, an IT guy gone rogue, had said. He'd been brought down by his show-boating. Not me, Woody thought. I'll be careful to not leave a trace.
He posted his message on one of the bulletin boards his mentor recommended – one where junior high school girls talked about makeup. "Pretty, and dim bulbs," his mentor had promised.
"Opportunity to work with game developer on cutting-edge new teen game," he wrote, not sure where it would lead. He'd done the time, he figured he might as well do the crime. He sprayed the air in a long hard hiss, a failed exorcism of the odor of all manner of human waste.
DRAWING AMANDA is set in the under-parented, high-expectation adolescent world of a Manhattan international prep school. Fourteen-year-old budding artist Inky Kahn is still smarting from the death of his father. He thinks he's found his big break when he bonds with the developer of a new computer game and snags a coveted drawing assignment, for which he uses his secret crush–Amanda–as a model.
But unbeknownst to Inky, the developer has a dangerous criminal past, and is using his computer game to lure and stalk teenage girls. And Inky has inadvertently led Amanda right into his path. Blinded by his own ambition and sulking from his father's death, Inky hides from the truth. Will Inky, with the help of Rungs, his cybergeek pal, discover the crime in time and save Amanda before the creep ensnares her–or anyone else?
Did you read the seven
tidbits I shared about myself? What's your passion? What did you think of Stephanie's bonus content? Tell me in the comments. ANNNNDDD, just because I think you're amazing, I'm doing my very own giveaway.
a Rafflecopter giveaway
Once you've entered my giveaway, be sure to enter the big contest

HERE

for a chance to win a ton of signed books by me, Stephanie Feuer, and more! To enter, you need to know that my favorite number is
7
. Add up all the favorite numbers of the authors on the Indie team and you'll have the secret code to enter for the grand prize!
To keep going on your quest for the hunt, you need to check out the next author! MELISSA GIORGIO